Top Affiliate Marketing Trends in 2021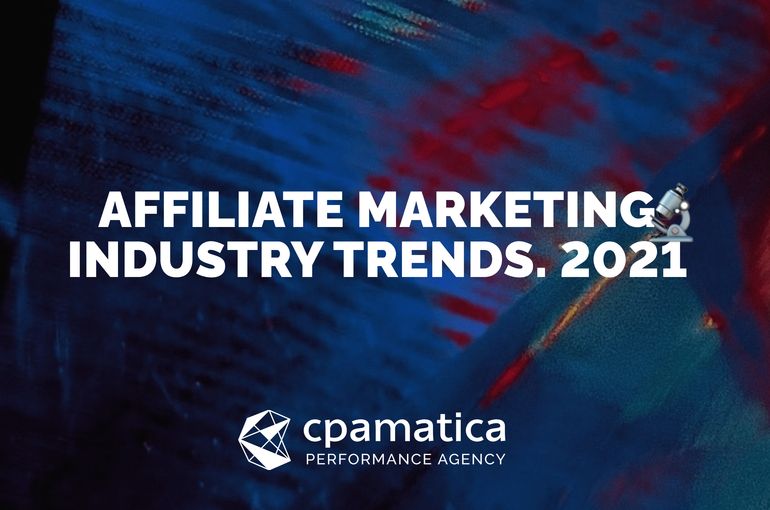 2020 has been a challenging year forcing most people to adapt to new realities. What makes us optimistic is seeing that people are capable not only to adapt but to thrive on change.
We've tried to summarize all the challenges, risks, and trends observed in the affiliate market throughout 2020 and make a prediction on how it's going to expand in 2021.
Dating
The online dating industry also changed in 2020. Moreover, this market has grown as a result of social changes, and in our opinion, will remain one of the best niches for affiliate marketing. 
People always craved social interaction, but the practice of social distancing changed the rules of the game last year. We all had to adapt to the new world find new ways to interact with others. Of course, online dating was the best alternative for most people, including those who have never before used such services. 
The adult industry has experienced significant growth, too. More people visited adult sites and spent more time on such platforms. The increased popularity of this market segment resulted in the growth of the entire dating industry. This, however, also made the competition even more fierce. 
SEO
In 2021, brands will win by creating content that solves the searchers' intent for each of the different SERP features and adopting more use of schema to indicate what content is designated for those features. Google has become more dynamic and sophisticated in the way they show and blend results to better connect with user intent. Integrating intent analysis in keywords research will be a must. After the last update on December 4th, many websites have dropped. The SEO pros who will be successful in 2021 will be those who can balance the volatility with the number of sites and quality content that help users solve their problems.
Ways to deal with the volatility of the market in 2021: 
Identify and monitor top market trends;
Use viral trends to create viral campaigns at the right time;
Set notifications to stay informed about all important events;
Respond quickly to any problems with your campaign all to get it back on track;
Adapt to new trends and niches if the old ones stagnate;
Stay in touch with all your partners, from affiliate networks and spy tools to sources of traffic and trackers;
Use top affiliate software to get notified about everything that happens with your business and protect yourself from unexpected financial losses;
Another thing relies on Customer Analytics and LTV. You retain interest and build trust with readers when your content is the most comprehensive, practical, and useful piece they've interacted with when searching Google. That kind of content requires focus, time, commitment, and investment to create.
Popunder traffic
People keep saying that popunder ads will become completely ineffective, will be finally banned by Google, or will be abandoned by all website owners at once. They said that it would happen in 2020, now they say that this is the most likely scenario in 2021. However, this type of ad is far from being entirely forgotten. Furthermore, it is constantly evolving.
Specialists note that bidding models are improving, and targeting settings are developing, and that means more and more users will see and use such ads every single day. It also means that they will become more and more effective. 
Though some affiliate marketing specialists consider pop to be one of the lowest quality sources, they overlook the fact that much work has been done to improve them. Popunder ads really became much better versions of themselves during the past years.
Additionally, there is a much worse ad format - the unskippable video ads. Most users consider them to be much more annoying than popunders. After all, the latter can be closed in less than a second, while unskippable ads make you watch the video till the end. 
Facebook Ads
Facebook has been not only one of the biggest traffic sources on the market but also a source of constant struggle for those running Facebook ads. As political tensions calm down after the elections, there are chances that Facebook will ease  restrictions and make it possible to run ads without getting bans and headaches all the time. 
Since Facebook is one of the biggest traffic sources, there is, most verticals are suitable for promotion there, but e-commerce, gambling, dating and crypto are the go-to choices to make money. 
It is no secret that online gambling and online dating are unwelcome on Facebook. But what if we say that quarantine and lockdowns in most countries made it possible to scale good old dating traffic? This Pandemic has affected the way we communicate, and people who used to be socially active felt more lonely than ever. Social distancing made them sign up for dating sites. More importantly, more people actually paid for subscriptions and turned into active users, not just as subscribers. By the way, if you want to optimize the process, you can use chatbots like Chatfuel or Manychat to get in contact with prospective members. 
Google Ads
Google's UAC (Universal App Campaigns) became a one-stop-shop for promoting affiliate offers in 2020. UAC is a smart way to reach a large audience across multiple platforms and generate quality installs and clicks to offers. It is also relatively easy to set up because targeting, creatives and placement are controlled automatically by Google's algorithms. But because of restrictions and continuous bans, many web-view app owners received a lot of headaches. It became much harder to start campaigns in UAC and promote the apps. Anyway, this type of traffic is still working and evolving in 2021. Main niches to work with are Dating, Crypto and Gambling.
Adult media buying
Let's be honest. There's always been a strong demand for adult content. It is an ever-green vertical. Although many regulations and limitations have been introduced throughout the years, the adult niche is more on top of the advertising game. Geos showing strong or stable performance for the adult vertical: DE, FR, IT, ES, HU, PL, US, UK, BR, NG. Ad networks like ExoClick and TrafficJunky tend to bring great results.
Conferences – the big miss of 2020 and big return in 2021
While coronavirus managed to cancel nearly all the major events in the affiliate marketing industry scheduled this spring and summer, it left us with no choice, communication and personal meetings. Thus, many players on the market stepped into the affiliate game, and without one on one communication, it takes much more time to gain trust from both sides, build confidence and develop a strong business partnership. We have big hopes for this new year and wish to see you all again soon.