Buying Push Notification Traffic: A Comprehensive Guide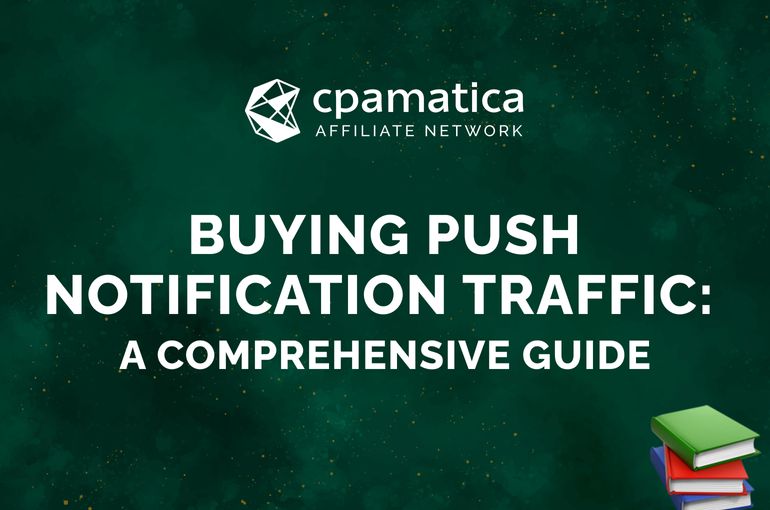 INTRO
Anyone who has any experience in affiliate marketing seems to know of or buy push notification traffic. A couple years ago push ads took the world by storm, offering a new source of engaged traffic with high conversion rates. How does it work? Why is it so effective? And how does one get into it? Buckle up, and let us show you around!
WHAT ARE PUSH ADS?
Push ads are, well, ads. They are delivered directly to users in a form of a push "notification" and have gained momentum because they do not annoy or overwhelm the user the way most other ads do.
How do push ads work?
In terms of the mechanism, push ads are notifications that users receive from a site via mobile or desktop. Usually, they consist of text and an image and, if clicked, take the user to a website, pre-lander , or product page. Not to be confused with push notifications that you receive within an app about the app. This type of ad works with most browsers and both Android and IOS (it took them a while, but yay!)
This type of ad works with most browsers and both Android and IOS (it took them a while, but yay!)
Though both desktop and mobile are popular, mobile seems to be ways ahead. There are more personalization options on mobile, including using GPS data for targeting based on location. The way push ads appear on the mobile screen is also a bit more enticing – first, they are bigger, and secondly, users are more used to seeing notifications on mobile, so they respond to them better.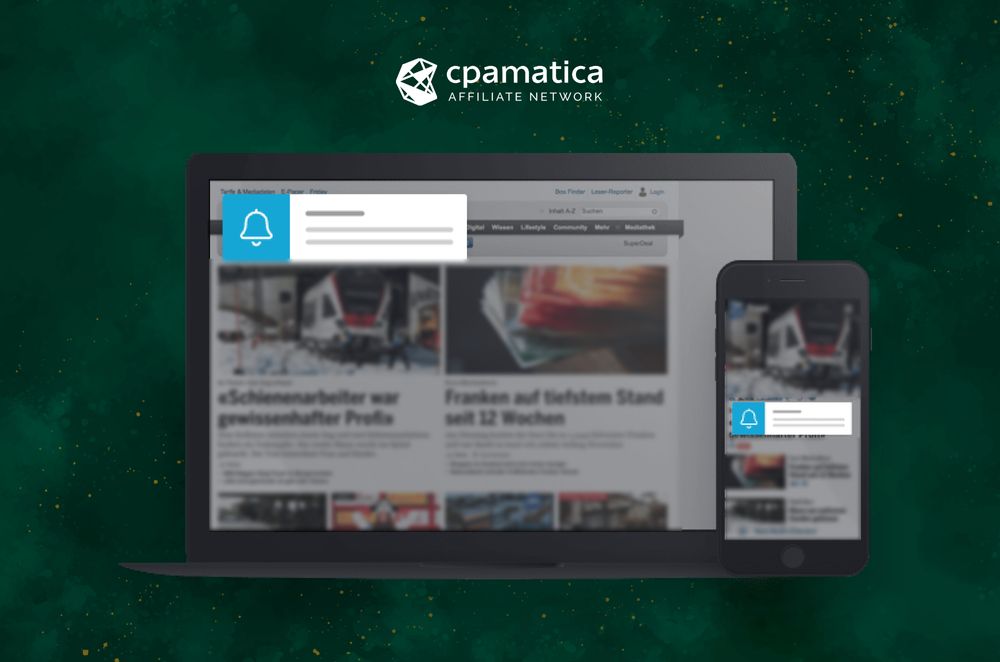 How are push ads notifications different from push notifications?
Do not let the similar-sounding naming fool you!
Push notifications are used within the apps and are a communication channel developers use to alert the users of updates, new features, etc. They are often used in social media apps to let the user know someone liked/followed/messaged them. There is no way to buy push traffic
Push ads notifications are a means of online marketing and a way to direct traffic toward a website. They are used on websites. They look like push notifications, as they were specifically designed to look like something people feel used to and enthusiastically respond to. This kind of traffic has become increasingly popular in affiliate marketing and our webmasters are very skillful in using it.
WHY ARE PUSH ADS AN AFFILIATE COMMUNITY FAVORITE?
There are so many affiliate marketing tools out there, and yet, in the last couple of years, push ads notifications have been off the charts. Let's see why everyone is so eager to buy push notification traffic
Friendly audience
One of the most important features of push ads is that they are only shown to those users who have agreed to receive them. When entering a website you will often see a pop-up asking to allow notifications – that's how you sign up to receive push ads. Users can also opt-out at any time. The voluntary nature of the ads may feel like a bummer at first. However, it is actually better – since only the people willing to see ads are getting them, the СTR rates are much higher than with other types of ads.
Advanced personalization
With push notifications, you are able to carefully target your ads based on different factors such as geo, interests, behavior, and more. Your push traffic network should have tools to send more relevant ads to your users, which increases the chances of conversion.
No banner-fatigue
Another reason for this popularity is how skillfully push ads escape banner fatigue. Thanks to their look, these ads do not trigger annoyance in the user but rather excite them, like a message or social media notification would. The format also incites a sense of urgency and importance since push notifications are usually meant to alert the user of something that brings value to them.
Speed of communication
Push ads reach your target audience instantly, which means they are a great way to advertise time-sensitive offers, promos, sales, etc.
Great visibility
Depending on whether you are targeting using mobile, tablet, or desktop, push notifications still take up a good amount of space on the screen. Not just any space, but the space that drags in a lot of attention. This can lead to increased click-through rates and conversions.
High CTR
Thanks to having an engaged audience and the novelty of the feature itself, push ads have a pretty high click-through rate. It not only creates good potential for conversion, but also is a useful metric to see what ads work best and to get to know your audience.
Comparatively Low Cost
Push ads traffic is a great way to see what works for you without breaking the bank and do a good amount of testing. They utilize the Cost-Per-Click pricing model. This means that you only pay if a user clicks on your ad. Depending on geo, the minimum cost per click may vary from $0.005 to $0.01.
Analytics
Push notification traffic networks usually provide tools for in-depth analysis of your campaign metrics, like ctr, open rates, and conversions. This allows you to adjust and optimize your campaigns quickly.
WHERE DO I USE PUSH NOTIFICATION TRAFFIC?
Now that we know why it is a good idea to buy push notification traffic, let's take a look at what industries we can best apply it in.
What are the best verticals to buy push notification traffic for?
Even the absolute most effective affiliate marketing tools cannot work equally well for every vertical out there. We put up a little list of the verticals push ads have proven successful in:
Dating
Sweepstakes
Gambling & Sports Betting
Finance
Video Streaming
News
E-commerce
Health & Beauty
Subscriptions
Mobile
Games
VPN
Travel
Job Search
If you buy push notification traffic for these verticals, you can be fairly confident it will do well.
How should I use push ads?
As we know, content follows form. We saw the best verticals to buy push notification traffic for, so let's see how we can best apply it.
Limited-Time and Holiday Promotions: One of the main benefits of push ads is how well they convey the sense of urgency. As such, they've become very popular with seasonal deals, time-sensitive promos, etc. They also work great for holiday season shopping, when people are always on a lookout for a good deal.
Discounts and Coupons: In a similar manner to holiday promos, offering coupons or discount codes works very effectively, especially around specific calendar dates.
Contests and Giveaways: Playing on the sense of urgency and exclusivity – sweepstakes , contests, giveaways - all are a good idea to buy push traffic for.
Free Trials: Everybody loves free things. And it is really hard to resist something free delivered right to you.
Product Recommendations: Since push ads notification traffic can be highly targeted (if you pick good push traffic sources), it is fairly effective to recommend products to the user based on all the information available to us about them.
New Product Launches: Exclusive first look? Discount for the first 100 customers? Have at it!Subscription Services: With advanced targeting, it could be pretty easy to catch a customer at a good time and place to subscribe for an online course or a delivery service. Don't forget to throw in a limited-time offer, though!
Event Registrations: Push notifications can be a great way for the promotion of webinars, workshops, or other events. Since you can deliver pushes instantly, these could work for up to a minute before your online event starts!
Location-Based Offers: Push ads are great for local businesses, as well as for the users, who will surely enjoy a promo on something that is around the corner from them rather than just online. Just make sure your push notification traffic network allows for such targeting.
WHERE TO BUY PUSH NOTIFICATION TRAFFIC?
What do we even mean by "buying traffic"? Well, by buying "traffic" we buy the opportunity to send push ads to users. Let's see who sells this opportunity and what are some best practices in purchasing it.
Initially, publishers own the ad spaces – site owners, webmasters, ad networks, etc. They sell the spaces to ad networks, who end up selling it to advertisers.
Ad networks are basically a middleman that not only offers the services but adds additional information on the ad spaces to the buyer. The information can include the target audience, impressions, conversion estimates, etc.
How to choose a push notification traffic network?
"Push notifications are a relatively cheap and simple form of traffic, especially when you're a beginner without much experience or a large budget. However, quality is an important factor to consider. Before choosing a specific traffic network to buy push traffic, we recommend reading reviews from more experienced colleagues on relevant forums to gather different opinions and select the optimal option. Sometimes, partners buy cheap pushes (almost at the level of bot traffic) and quickly encounter setbacks. You might earn something from such traffic momentarily, but it's difficult to build quality, long-term relationships with advertisers or professional affiliate networks."
Head of Affiliate at Cpamatica, Yegor Galushko
Since push ads have so many benefits, the market has caught up and is now pretty saturated. So before signing up to work with one of the many push traffic sources, it is definitely worth it to do some due diligence. Here are some things we would check for:
Credibility
If a company is not great, chances are the community already knows about it. So ask around!
Terms of compliance
Push notification ads are a clean means of advertising. The company taking precautions and having a serious approval process is always a good sign.
Money talk
Ask how much the entry deposit is, what is an average CPD, what payment methods they accept, etc. They should be able to answer all your questions without hesitation.
Push ad traffic volume
This will help you estimate whether the source will work for you in the long run. Some networks offer you tools to see what will be available to you in terms of volume, pricing, and location.
Targeting options
You are surely well aware that without proper targeting, even the most thought-out campaign can be a miss. So the ability to choose the right audience is a top priority. Look out for the top verticals of the network. Audience size does not guarantee audience engagement. See if the specific push notification traffic network offers tools to help you set up targeting for your campaign. And be aware that whether we like it or … the highest bid gets the best audience.
Verticals
Check to see what verticals the network specializes in and if they work for you. If you have in mind a riskier niche, like adult, gambling, etc. make sure they support it before signing up.
UX
Do not waste your time on a poorly designed platform. See if there is a platform preview available before you sign up and if a representative can walk you through it.
Customer service
In this industry, you often have to act fast, and that means that customer service should always be there for you to help fix any unexpected issues.
High-tech solutions
The affiliate marketing world is always very quick to adapt to new technological solutions. Make sure that the network you are choosing is not stuck in 2018 and is actively integrating new-age tech.
Integration with other platforms
It is crucial to have tools that provide you with all the data on your campaign. Most push traffic sources do not have such tools built-in, so it is essential that they can integrate with outside tools seamlessly.
Feeling a bit overwhelmed with all the info on buying push notification traffic? Don't stress, we're always here to help you and offer many different solutions for your campaigns! Register at Cpamatica and get some insight right away!
HOW TO LAUNCH A SUCCESSFUL CAMPAIGN?
You're finally ready to launch your first campaign? Here are some tips for you to make sure you're getting the most out of it.
Budget
Make sure to set a campaign budget (how much you're willing to spend to buy push traffic) and a bid amount (how much you're willing to pay per click) and stick to it. Monitor your spending to see if you're getting a good ROI.
Create a compelling ad
Users should benefit from seeing your notification. Are they getting a discount? Useful info? Something for free? Make sure that your images are good quality and the text is engaging. Emojis seem to work great in push ads, so don't skip out on those!
Create a great landing page
No amount of traffic will be useful if the page users arrive at is not interesting. So invest in a good quality landing page that drives the point home.
Don't overwhelm the user
1 or 2 impressions a day are a good amount. Sending too many push ads notifications might create a negative association with your brand.
Test, track and analyze
Make sure to test all the different elements of your content to see what works best. Do not be afraid to adjust, change and optimize. This goes for both individual ads and the strategy in general.
Run the campaign!
Remember that the more you do – the more you get. The more creatives you run, the higher your chances of converting successfully, so prepare a good amount of content and go!
CONCLUSION 
Push ads notifications are a great option for both newbies and professionals, all sorts of verticals, budgets, and geos. And if you do your research , test relentlessly, and get to know your audience, you have every chance for great success!