Guide: How to choose CPA Network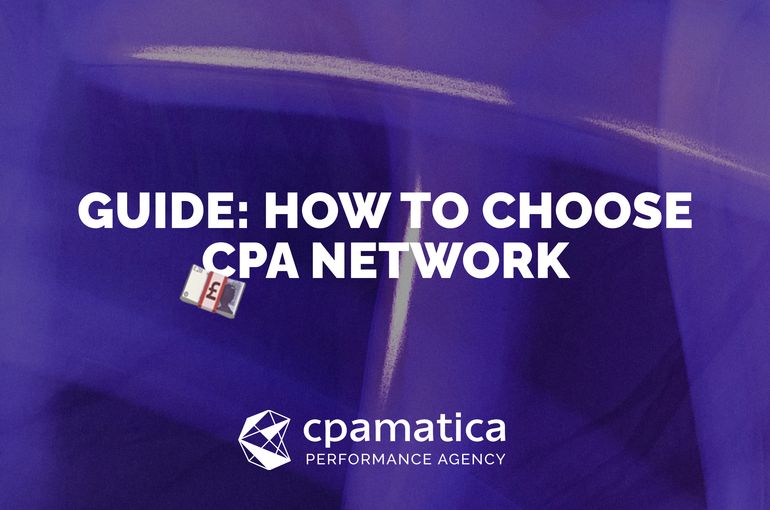 No matter if you are a newcomer to CPA, finding a reputable CPA network that has a strong selection of offers, pays out your commission on time and has a knowledgeable staff that will help you sustain and grow your online business can be tricky.
Let's start from the beginning, what is a CPA network?
A CPA network, also known as an affiliate network, acts as a helpful intermediary between advertisers who work on the Call-Per-Action model and affiliate marketers.
It's like a one-stop shop for affiliate marketers, where they can find a wide variety of offers all in one place, making it much easier to discover profitable opportunities in specific verticals. Mostly, CPA networks work with different verticals
So the process of choosing the best CPA network can be divided into four different parts.
Study as much info about the network as you can
Legitimate CPA networks will have a strong online and offline presence as they will want to attract the best affiliates to work with them. To do this, they need to put their name out there, keep in touch with key people in the industry and attend respected affiliate events. Rating sites and top-10 posts are a good place to start.
Payouts
If you know what vertical you want to work with, go to some well-known offers aggregators like OfferVault and compare the payouts on offers in your niche, conditions, etc.
Reviews 
One of the true indicators of a good network will come in the form of feedback from current affiliates who are with the CPA network. An affiliate forum is a great place to start as affiliates will discuss campaigns they are currently running and mention the networks they are working with.
Forums are also a great guide as to what networks are doing a good job for their affiliates, so if you have any queries about joining a network, you can simply start a thread and get feedback from other members. Of course, the network must be doing something right if they get good feedback from their affiliates.
Forums, we advise joining: STM  and Afflift .
Presence at Large Industry Events 
You can always look at the next big events in the affiliate calendar to check if your CPA network is participating or check the last time it was a sponsor for a large event.
Interface 
The dashboard and the functions the network has are ones you will be working on a lot. So you want to be sure the interface is user friendly and easy to use. Take a deeper look at the statistics page, payments page, and offers page to ensure you have all the information you need.
Offers 
As a publisher, you may already have a vertical you work in or would like to work in. Different CPA networks will focus more on certain niches than others. If you are looking for a certain offer or vertical to market, use Offervault or Affiliatepaying to assess the current network offers.
It's also important to ensure the networks you work with not only have a wide range of offers available but consistently bring in new offers to promote and continue to work with more advertisers.
Payment terms 
Before joining a network, make sure you are aware of the payment terms offered to publishers. You will generally want a network that can offer weekly payments for three reasons.
It shows they have a significant amount of capital as they can afford to pay out each week, and therefore they are here for the long term.
If you hit a high converting campaign and want to drive as much traffic to it as possible, you don't want to be sat waiting 3-4 weeks for payment to come through to scale up. By that time, you could have missed the boat and potentially lost out on thousands of dollars in earnings.
Currently, there are almost no CPA networks that pay daily.
Conclusion
Now, you should only have a handful of networks to choose from. So this time, look at the specific details to identify the best network.
Generally, you will want to work with a  CPA networknetwork that will screen new publishers and not offer automatic acceptance. If networks fail to screen new publishers, they are ultimately jeopardizing their own business by opening it up to potential fraud, which could have a direct knock-on effect on your legitimate commissions. Likewise, if they accepted all applicants, then your affiliate manager is likely to be completely snowed and never be able to give you the attention you need to scale your business.
Overall you want a network that will exclusively work with publishers who are dedicated, serious and motivated to make money. By joining a network, you are investing in them as much as they are investing in you, so you need to make sure that they are taking their investment in you seriously and will be there to support you as you grow and develop your business. 
By considering the above points and doing a little research, you should be in a strong position to choose networks that will assist you in growing a profitable online business. Remember to research thoroughly, ask questions, and seek advice and guidance on these forums if in doubt.