How to start promoting Sweepstakes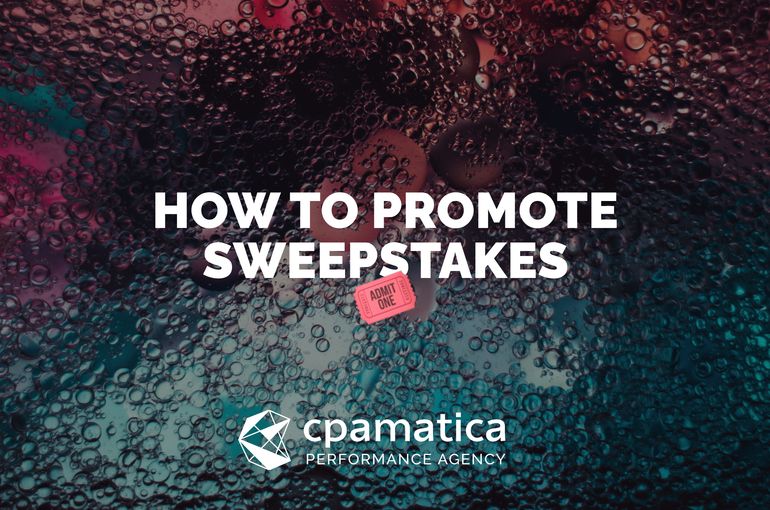 Are you new to entering sweepstakes and looking for tips on how to get started? This guide will make it easier if you're ready to promote sweepstakes offers! If you're already into the sweepstakes niche, keep reading; these tips might help you improve your performance while promoting sweepstakes.
To keep everything clear from the very beginning, let's start with the term "sweepstakes" and define what they really are and what they are eaten with.
Sweepstakes, or as they are often called – sweeps, are giveaway offers where the user has a chance to become a random winner by entering some of the personal information like name, email, sometimes address, and phone number. Except for the familiar "sweeps", you can also hear about them by the commonly – used names like surveys, leadgen, and vouchers. Prizes are different here – from gift vouchers to TVs and holidays near the ocean, so that every user will find something special. 
In 2023 different gift cards for shopping or money for the PayPal or Cashapp account, games and gaming tools, and electronics like wireless headphones, Dyson hair dryers, or robot vacuum cleaners are among the top sweepstakes offers. 
TOP traffic sources for sweepstakes 
What is also cool about sweepstakes promotion – you can try them with almost all available traffic sources and choose offers according to the traffic and the audience that you have. In Cpamatica we have done research and defined the sources that perform best on our sweepstakes offers.
Paid Social Media Traffic (Facebook, Instagram, Snapchat, etc.) is considered to be the best source for sweepstakes, as you can make the perfect targeting for a certain product – no matter if it is a travel backpack or a 65" TV. Correct targeting in sweepstakes promotion is a key to success!
Google Display Network Traffic (GDN) is another perfect source for sweeps. Using Google for sweepstakes promotion can be a bit challenging in terms of campaign moderation, but GDN provides tons of good traffic and an interested audience, so here you are also able to set appropriate targeting for each product and predict your costs.
Push and Native Traffic are also good for sweepstakes as they look organically for the user while surfing the web, so you can buy such traffic through one of the popular traffic networks.
Email and SMS Marketing are good when you know your audience's interests and can choose suitable products for them. You need to constantly refresh your database and always make sure that they are of high quality and do not violate any rights of your users. 
Types of Sweepstakes Offers (SOI, DOI, CC Submit)
Before choosing the perfect sweepstakes offer, you need to know what you will get paid for and what types they are divided into.There are two main types of sweepstakes offers:
Email Submit (SOI&DOI): Sweepstakes with simple registration (need to specify your data, usually email, sometimes address and phone number). This is the easiest type of offer with lower payouts. 
Credit Card Submit: Here, the user needs to enter bank card details and agree to a subscription option. The user must pledge a certain amount of money to apply for a place in a giveaway. This is the most difficult but also the most profitable type of sweepstakes offers.
In Cpamatica we offer both SOI and CC-Submit sweepstakes campaigns to our affiliates, so you have a chance to test the best-converting sweeps on the market. Our managers will find the most suitable offer for your test according to your audience and traffic! 
How to choose your perfect sweepstakes offer?
One of the most important steps in testing sweepstakes is choosing the correct offer. Here are the steps that you should take while selecting the campaign:
Explore your audience – their preferences, age, and interests. This way, it will be easier for you to choose the product to promote. You should not just push "popular" products. It is better to choose the ones interesting for your users or the ones you can set the proper targeting for. 
Choose the type of the offer – if you just start your sweepstakes path, it is better to begin with SOI campaigns and after successful tests get to CC-Submit offers on more expensive traffic and GEOs. But you need to always check the flow of SOI sweepstakes. The payouts there are not that high, but the flow may include 10 survey questions and several pages with personal data fields. The flow for gaining success in SOI sweepstakes should be short and simple and should not include tons of required info to fill.
Check the landing page of the chosen offer – it should load fast, not be blocked by different browsers and be relevant to a certain holiday or season.
Seasonality 
The sweepstakes vertical is known as an evergreen vertical because they are profitable at any time of the year. There is no right or wrong season to run sweepstakes offers because they will always be popular among users. Usually, the period immediately before the holidays or at the beginning of a new season provides more opportunities to create new angles. It gives users a "unique short-term-opportunity" to win a Christmas gift box or a Summer beach pack. 
Where to run Sweepstakes? Top GEOs 
Sweepstakes work on both mobile and desktop traffic and in practically any GEO. As a beginner, you can try SOI sweepstakes campaigns as they're easy to convert. Still needing prior experience, it is essential to avoid making a mistake by targeting the incorrect GEO. SOI and DOI offers work for all countries, but if you're only starting, you should go for cheaper traffic, that is, Tier-2 and Tier-3 countries. Running successful sweepstakes campaigns is also possible in Tier-1, but in that case, it's recommended to choose locations with the highest volumes, such as US or LATAM countries.
Already being experienced in sweepstakes offers and ready for testing CC-Submit campaigns, it is, on the contrary, better to test Tier-1 countries, which are best converting for CC-Submit sweepstakes, as people in such GEOs are more likely to subscribe to different giveaways without huge worries to enter their credit card details. Cpamatica has a wide range of sweepstakes offers for different GEOs and we are able to add certain products and GEOs on your request, so you can always rely on us and be sure that you will find a perfect offer-match here. 
Pre-landers is the key
By their very nature, sweepstakes offers don't work with direct linking. Instead, they often require pre-landers, which, in turn, are used in order to engage the user with the possibility of winning a prize.
What should you know while creating a converting pre-lander?
Your call to action should be clear and explicit. Make sure it's obvious how users should enter the sweepstakes.
The visual appeal of your pre-lander is 70% of the success of your sweepstakes campaign. A user will not stop at the pre-lander, which is plain and doesn't evoke interest.Be laconic and user fewer word, catching the attention to the main "TRY NOW" button
There is a direct relationship between the conversion rate and the loading time of your pre-lander. The longer it takes to load, the lower the CR will be.
Optimize the pre-landers for different languages depending on the GEOs you've chosen. The pre-landers with the languages native to the GEO you're targeting perform better than those that rely on the international English language.
Experiment with a countdown timer on your pre-lander. It aims to encourage people to enter now rather than postpone it.
Make your offer exclusive – show the users the amount of prizes left to make them feel that there is not a lot of time to think.
Use different pre-landers to test – take the first one with surprise boxes and the second one with a wheel of fortune and A/B-test them.
Where to find prelanders? 
There are two options. Often, one can choose between pre-made landers and pre-landers offered by a partner or just copy someone's pre-lander and edit it. However, such pages are not unique, and users who see different ads will be redirected to the same offers. This will not help you gain their trust. Creating your own pre-lander is usually the best solution. In Cpamatica, we have added a pack of pre-landers in different languages that are perfect for any sweepstakes offer, so just add it while generating a tracking link!
How much testing does it require? 
It actually shouldn't take long. It might take three days to do proper testing. After that, blacklist non-working sources and variables and choose those that perform best or have the potential to perform better. Once you blacklisted all the unnecessary, split-test on the rest for 5–7 more days (approximately) to get a dipper in numbers.
Conclusion 
This is a great area for newbies to get their feet wet and start to learn the basics of CPA affiliate marketing. Email-Submit and СС-submits are all different types of sweepstakes offers. They need a slightly different approach, but as long as you know their strengths and weaknesses, you can make each offer type profitable.
As your knowledge (and budget) grow, you will naturally want to take on bigger and better projects. Experiment with Sweepstakes CPA offers! Try different tactics. Have fun with it!
If you need even more tips, we recommend reading this article .