Pop Up And Redirect Traffic - Simple Explanation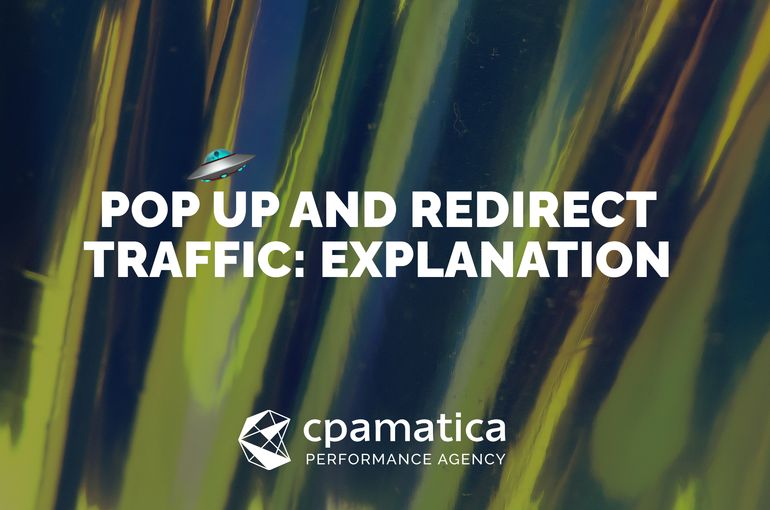 Do you want to outrun competitors on the market? Don't know what tools to use to get the efficient results your clients ask you for? This article will look at such aspects of your work in digital marketing as popup traffic and redirect.
Pop up and redirect: what are they?
Let's stop at some terminology first. Some of you may already know it, but it may be new information to consider for others.
Pop up traffic can be illustrated with such an example. Remember when you were browsing the Web, visiting some websites, clicking links on the site that brought you to the landing page? Well, that's what pop up traffic is.
Similarly, when you visit a site and then are taken to the landing – it is called redirect.
Both options can be the saviour of your company or a complete failure. At this point of your work, you have to research and predict whether they are going to work for your current project. What draws attention to these methods is their price. Working with these types of traffic is inexpensive, but not always it will bring you results. More often the quality of traffic is not very high.
Common verticals for mentioned traffics
The most widespread verticals here would be Google Play installs, pin submits, sweepstakes, coupons, vouchers, gift cards, and any adult offers.
First step
The first thing is that everything has to work perfectly on your landing. Choose the best hardware if you want your landing to load the information quickly. The main points you have to consider when choosing are the following:
your goals
the quality and quantity of the result
budget
geolocation
Step two: payback speed server and CDN
Payback speed server and CDN are responsible for delivering pages and other content on the Web to the user. If you need to get information from the EU customer, take a server based in the developed European countries. For Latin America, we would go with a server from the USA, etc.
If you are eager to use CDN, turn to the most prestigious ones.
Think about speed
Your landing shouldn't load long, even if it has a lot of traffic. So the best thing you can do is to check the loading speed of the landing. Plus, if you do the code spotless, you won't encounter any problems like this.
Track your traffic
You should always use a tracker to check out the traffic. Yes, it will cost you money, but it is not something you can skip and receive a good result. The biggest affiliate tracking software are Scaleo, Thrive, Voluum, Pixelk, Adsbridge, FunnelFlux, and iMobiTrax.  
Bots
You will definitely encounter the situation when bots visit your landing in your campaign. First, catch them by checking out how many visits were made and what the CTR is. Then, consider banning the platform if the CTR is zero after a couple of dozens of visits.
Bidding
Understand the functioning of bidding, as it will help you a lot in your work.
Angles and scripts
Aggressive angles are usually forbidden today. However, you should always find out what's allowed or not because you can be banned if you use aggressive promo.
The goal is to attract user attention as much as possible. So use the 'back' button blocking feature, vibration, sound, alerts, model and brand, and date display.
Also, look for better types of optimization as much as possible. It is worth the extra expense you may spend as it also means having more income.
Other ways of monetization
The back button is a powerful source of monetization. For instance, you can direct to another landing, offer or vertical, back to network buying your non-converting traffic or global offers or to your landing and redirecting again until they are converted.
And last
Keep an eye on everything going on around you in this field, check out trends, compare offers, run split tests from different affiliate networks, and ask for bumps and some new offers for your traffic from your AM.
Top networks for redirect and pop up traffic