Prelanders: What are they and how use them effectively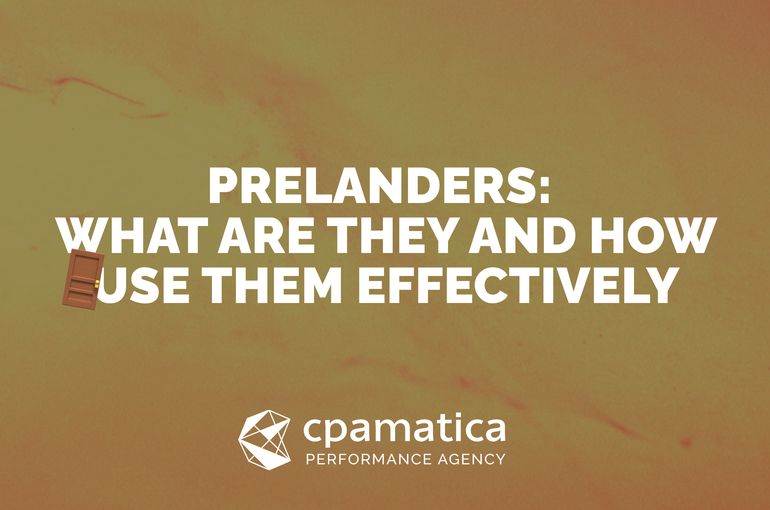 What is pre-lander? 
First, let us define the term itself. Pre-lander or pre-landing page is the page that appears before a landing page with your offer.
Its main purpose is to inform and intrigue users, including hesitant ones. In other words, it is aimed to encourage and interest even those who are completely sure that they don't want to make any purchases and make them actually buy a product or service.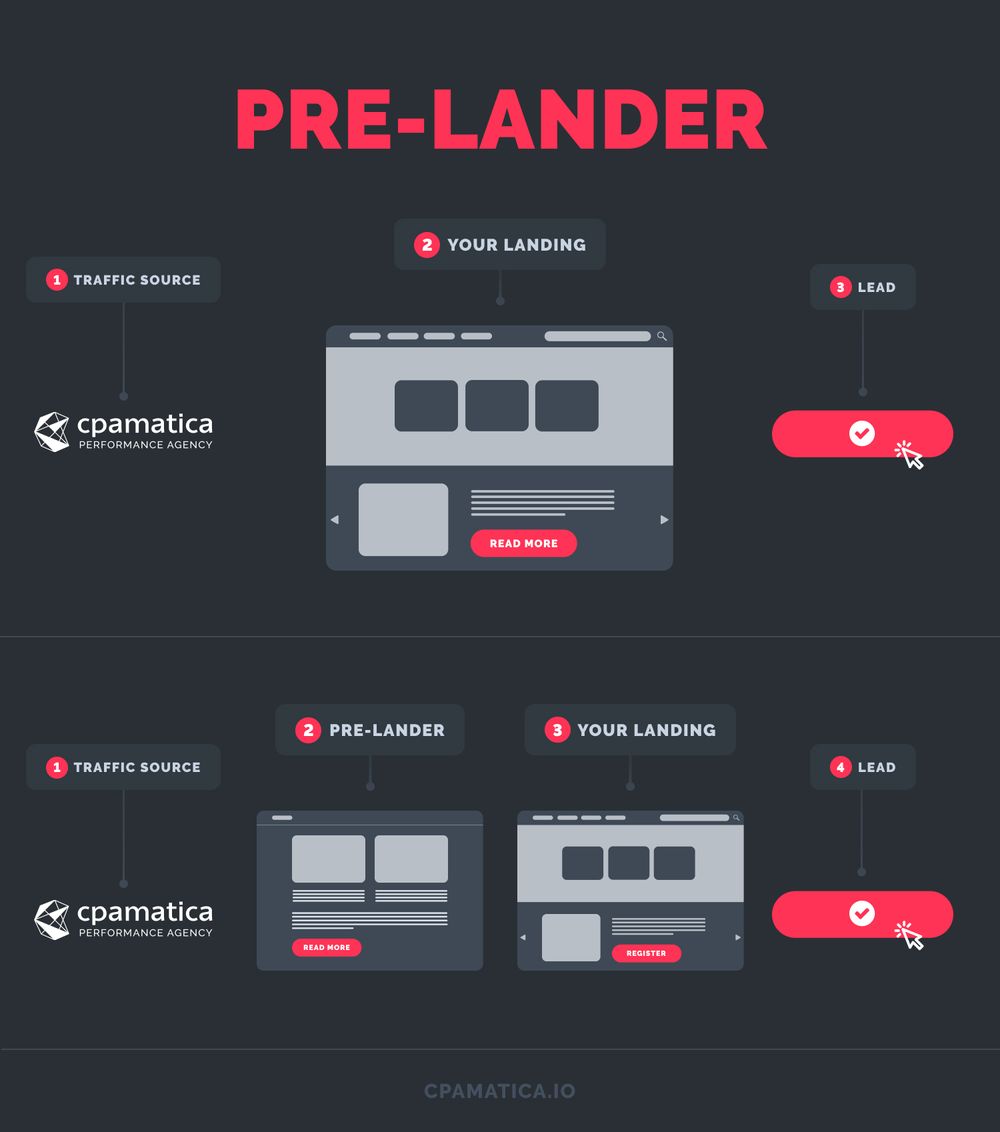 Pros of pre-landers
First, let's take a look at the benefits of using pre-landers::
Better conversion, better CTRs
Engages users
Prepare users, inform them about the offer
Smoother transition
Allows identifying successful steps and drawbacks of your marketing strategy
Cons of pre-landers
Though good pre-landing pages usually work well, they are not perfect, and here are the reasons why:
You will likely need to test a few approaches before you find the one that works best
It might be difficult for a beginner to create pre-landers
Some advertisers don't allow using such pages.
Do you really need a pre-landing page?
Do you really need that mediator between the offer and a customer? In general, pre-landing will likely help you acquire conversions and definitely won't be bad for your business (of course, if the page is quality enough.)
One may argue there are no reasons to use it if your landing page already works well enough. Even if many of your users don't mind making an action (registration) without warming up, just after they click on your ads, you never know how many clients you missed because there was no pre-lander. Why miss opportunities? So, generally speaking, yes, nearly everyone needs a quality pre-landing page.
Types of pre-landing pages
When it comes to pre-landers, the only limit is your imagination. However, there are a few common types of such pages. They are as follows:
Dating pages — quizzes, "16476 girls near you," catchy messages from "real" people
Engaging games pre-landers
Sweepstakes — "win the prize" pagesUtilities that scare users with virusesIf you need to find out more about sweepstakes, we recommend reading this article .
What's a perfect pre-lander & how to create it?
What distinguishes a good pre-lander from a bad one? Plenty of things, actually. The do's and don'ts you can see below are based on these things, so if you want to get an ideal page, follow these tips.
Do's — tips to get a 100% effective pre-lander
Let us start with do's — here are the most important things to use when creating a pre-landing page.
Carefully choose the general message of the pre-land. What is your main goal? Do you want to intrigue, encourage, or scare a customer? Think about the product or service you are going to suggest, find out if you need to make a customer feel positive or negative emotions, and create a strategy.
Brevity is the soul of wit, so make your message short and simple. It is like a PowerPoint presentation — if you add too much text, it just won't work.
Add the comment section (real or not.) Make sure that all comments are positive, realistically positive.
In general, your pre-lander should be catchy, brief, engaging, and, more importantly, it should look good.
Don'ts — tips to avoid mistakes when creating a pre-lander
Here are the main things to avoid when working on your pre-landing page:
Don't spam with links — it is useless and confusing.
Don't create a website that looks like it was made in the early 90s.
Use bold font to make a user remember the most important part of the information.
How to get a good pre-lander?
There are two options. Often, one can choose between the pre-made landers and pre-landers offered by a partner or just copy someone's pre-lander and edit it. However, such pages are not unique, and users who see different ads will be redirected to the same offers. This will not help you gain their trust. That's why creating your own pre-lander is usually a very good idea.
Here are a few more tips for those who are going to start working on their first pre-landers.
Use good old A/B testing at the very beginning.
Create engaging, catchy headlines.
Upload top-quality pictures only.
Focus on making the page easy to navigate.
CTAs are a must-have.
Loading speed should be as fast as possible.
My pre-land works not so well, what should I do?
So, now you have a pre-landing page. However, it doesn't increase the conversion rate significantly. Here are the things that might help you make your pre-lander more effective.
Audit. Ensure that it loads very fast and has no technical errors.
Look for content errors. Pay attention to all the details — any mistakes in currency, data, slang for particular geo may affect conversion rates.
Check your comments. If there are comments on your pre-landing page, make sure that they sound natural (if you ordered them) and that all of them are positive if they are real. You can even initiate an interesting discussion in this section to get more attention.
Use retargeting not to miss the chance to show other ads to this user in the future.
Make sure that your page is targeted, that it looks good, that it is not too messy.
Summary
Like any other ad, pre-landers work perfectly if they are made in the right way. There are many nuances to consider, but if you handle it and create a top-quality, genuinely effective pre-lander, your project will bring you more profit than ever.