What Is The Difference Between Push and Pop Traffic: Affiliate's Guide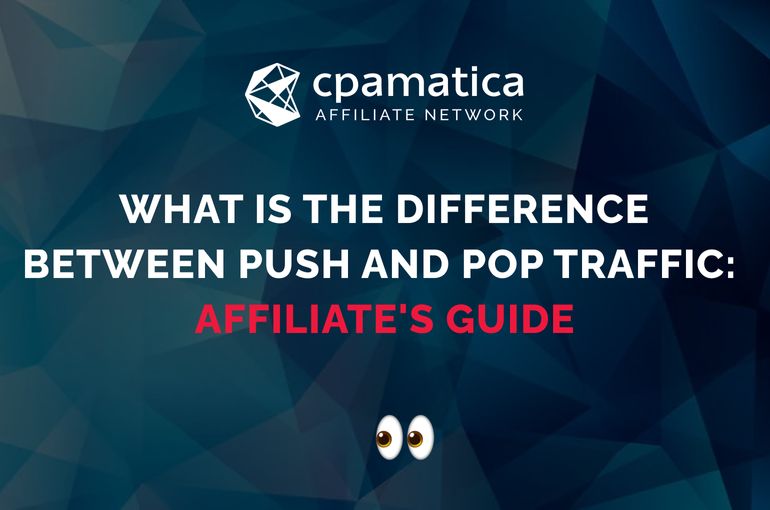 If you are an affiliate marketer, then you will be all too aware of the importance of high quality traffic. Traffic is the driving factor behind your success, and thus ensuring that you can draw in the correct kind of traffic is very important. For most affiliate marketers, you can choose between two options: you can buy push traffic, or you can buy pop traffic. Before you make a decision, though, you need to understand one crucial question: what is the difference between push and pop? Could you benefit from investing in both?
Let's take a look so that you can better understand what you are dealing with. In this article, we will cover important details such as:
An explanation of what push and pop traffic is, and how they differ.
What is the difference between push and pop traffic?
Why should you consider the option to buy push traffic?
Why should you consider the option to buy pop traffic?
Insight into why you should start with push or pop, not both
Useful tips for the best way to utilise both marketing methods
This guide will break down the key details behind both so that you can appreciate exactly what you are investing in. Then, you can feel more confident in committing to this investment in the years to come for any future affiliate programs you operate.
What Is Push And Pop, Exactly?
The two main forms of ad formats that you are can use are known as push notifications and popunders. Both are quite different from one another, and we will break down the essential details of both below so that you can understand exactly what you are buying into.
For the most part, push notifications are alerts that are sent to desktop and mobile devices. These messages can come from anything from a piece of software being installed, such as an app, or a system message i.e., a low battery notification.
Push campaigns are highly effective for many reasons, not least because you can push these notifications directly to the forefront of someone's device. They are hard to ignore, and thus greatly increases the chances of you being seen. And given the user would need to give permission to receive this notification, you do not have to worry about being seen as intrusive or spammy.
Push ads are extremely adjustable, meaning that you can buy push traffic and bring in users using a wide variety of different methods. For most, this is one of the least aggressive forms of affiliate marketing.
By contrast, a popunder is something a little more aggressive in its style. Popunders have been around since the 1990s, though, and they are a proven form of marketing. These essentially act as secondary web pages that open up under the main browser page. This could happen because someone clicks on a certain part of your website, or because they carry out a certain action onsite.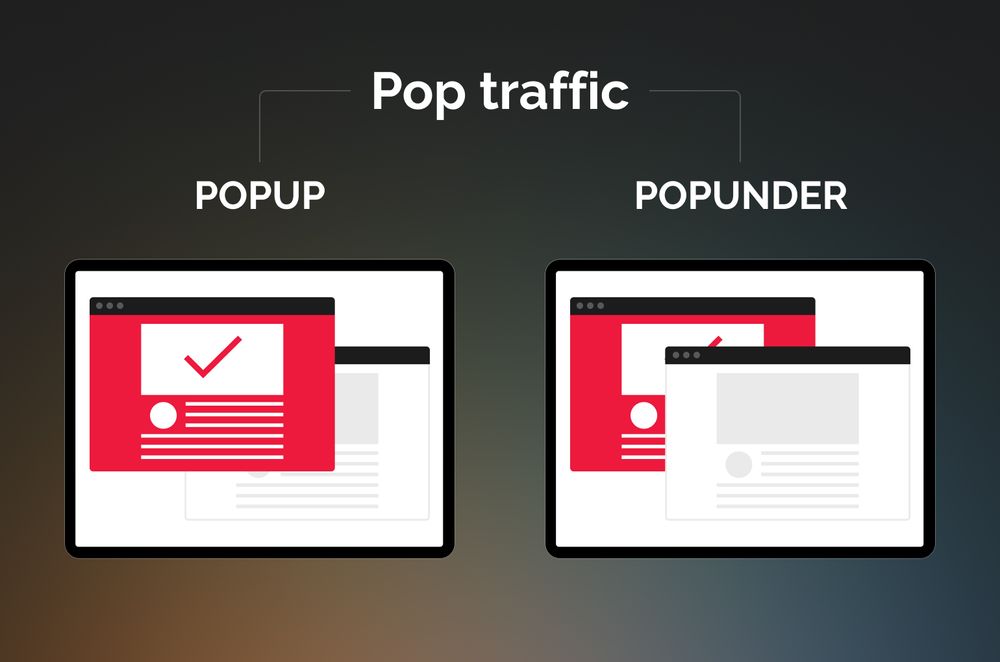 The main negative with popunders, though, is that if someone is using an ad blocker, then it is likely that they will simply not see your popunder appearing. However, since they appear under the main browser as opposed to in frontlike a popup ad they are still less intrusive than other forms of affiliate marketing out there.
The Key Differences Between Push And Pop Traffic
There are quite a few crucial differences in comparing push and pop traffic. When trying to determine what is the difference between push and pop, the following factors are worth considering. Let us take a look so that you can understand what the main differences are and what you should expect.
Push Notifications Feel Personal
One of the main differences between a push notification and a popunder is that push notifications tend to feel more bespoke to the individual. The language used, and the way the proposition is framed feel more like it is aimed at that person. Popunders, by contrast, can feel more generalised, which can impact how they work when you want to speak to the individual instead of consumers as a whole.
Push Notifications Need Consent
Just to let you know if you choose to buy push traffic, push notifications cannot be sent to individuals without express consent. This means you are less likely to feel like you are 'spamming' someone because they need to give you the green light. Therefore, results can be more consistent because while fewer eyes see the ad, they have permitted you to show them the ad, and thus they are more interested.
Push Notifications Have More Variety
From providing a synthetic security alert to giving someone information about a new sale that is taking place, push notifications can be more variable in how they come across. Popunders tend to be more general in their tone and style and have a typically agreed-upon format that works. Push notifications, then, can give you more creative freedom to try and gain the attention of the individual involved.
Popunders Feel Less Intrusive
What if you choose to buy pop traffic instead? Then you are relying on a less 'invasive' marketing style. For some affiliate marketers, push notifications can feel a touch more intrusive and direct. That can work for some products and services, but not all. Instead, it would help to focus on popunders when you want something more like a general advertisement. Reports show that popunders still have a healthy level of success, so if you want something that feels less 'in your face,' this can work.
Popunders Have An Easier Learning Curve
Due to their more typical nature, pop ads can generally be easier to configure and learn about. Thus, it is easier to put together a successful pop advertising campaign. They also make it easier to find a targeted offer and can even be linked directly to a proposal instead of a pre-built landing page.
Popunders Can Be Ignored Easier
The downside to this kind of advertising is that most people will find them easier to ignore as they have 'banner blinding', which means they are used to skipping over such an offer. In more developed nations where the payouts per person can increase, you are more likely to find your advert has been ignored.
Popunder Results Are More Consistent
The main takeaway, though, is that you generally will find that push notifications are less consistent. It only takes one publisher to go down to see your traffic dip significantly. With more popunder ads, you will see a more consistent level of traffic arriving from the ad. In this case, you are trading personalisation for a larger group of eyes being trained on your ad: lower conversions but greater opportunity to be seen.
What Is The Difference Between Push And Pop? Why Choose Only One?
Now that you can appreciate what is the difference between push and pop notifications, you must know why you should choose one. For example, you might be wondering why you should not simply try to use both. More experienced affiliate marketers who have run multiple campaigns using both could use a combination.
For newbies, though, the best thing to do is to stick to one or the other. It would be best if you did not try to combine them until you gain the relevant experience in using each method. After all, both formats differ in their purpose, process, and potential for bringing in more organic traffic.
As the main differences above show, you need consent before using push notification marketing. However, you could use in-page push ads that are shown to every user instead. This does not require the permission that a normal push notification would, but they tend to be more basic in their format and style.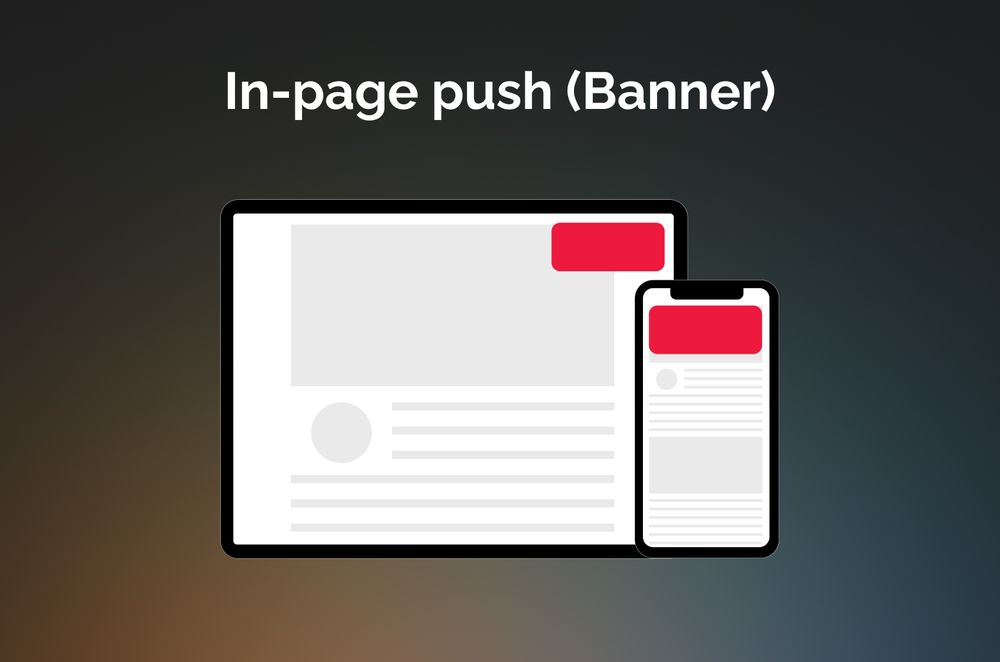 In general, though, newbies should focus on one use or the other – as time goes on, you can experiment with using both.
For the most part, though, starting with one will allow you to see the pros and cons of each method. Some marketing campaigns will be suited to push notifications, while others will do a more popunder-focused approach. You can only learn this through time, trial and error, and experience.
You might find it easier to focus on, for example, trying to buy pop traffic to avoid having to wait for permission. You might find that push notifications, though, are more suited to the kind of project that you are running. In short, there is no 'right' or 'wrong' answer – every campaign is different. With that in mind, then, how do you make sure you choose accordingly?
Choosing The Right Traffic Type
The main challenge you face will be determining the correct option for your current affiliate marketing campaign. It depends on what you are going to be advertising. Understanding whether you should buy push traffic or buy pop traffic will have a significant impact on who you target, where you target these individuals, and the kind of language you use to encourage them to make a purchase.
There is only sometimes a set-in-stone style, but you should try and keep the following factors in mind when picking the correct traffic types. For example, for popunders, the best options tend to include:
Software purchases and trials work best as a popunder. If you are trying to sell someone a registration or a purchase for software or an app, popunders generally work best.
The same goes if you are trying to advertise something in the online entertainment industry. For example, if you are using advertising first deposit bonuses for an eGaming site, go for popunders.
If you are trying to offer an ad to get someone to sign up for something like a free trial for a product or service, then popunders tend to be the best way to advertise this without being intrusive.
The same is true if you want to entice people to join your program by using contests and giveaways – sweepstake vertical.  From answering surveys to subscribing, popunders tend to work the best.
For push notifications, though, you are generally going to find they are more effective in situations like:
Health and wellness products, where you can propose the problem to the individual and then offer them a potential solution through your push notification.
Software and security tools. Show the individual receiving the notification how easy it is for someone to invade their hardware, and then offer a solution via push notification.
The 'fake message' style of push notification is very popular in dating. This can encourage the person to sign up to get messages like this to get more details.
Any form of eCommerce can be made easier by using a push notification. This involves using official logos and designs to help encourage users to click the link and buy the products.
This should give you a rough idea of what to look out for and expect when using either push or popunder advertising. This is only the beginning: there is much more depth to this option. Sometimes, you might find using the alternative approach; such as advertising a free trial via push notification as opposed to popunder can stand out more from the conventional competition.
That said, you should try both push and pop traffic for yourself. Do some split testing, trying to advertise the same product/service using one option and then the other. With the right analytical tools, you can determine whether push or popunder notifications will be the right choice for whatever you are advertising.
Making The Next Move
Now that you understand what is the difference between push and pop traffic, you will better understand which option best suits you. However, this only scratches the surface of both topics. Now, the challenge is to make sure you choose the correct traffic type for your offers and budget. Now that you have a greater understanding of both traffic types, you can decide what would suit you best. Use the above information to make it easier to differentiate between both models and the benefits of using either – or both – traffic generation methods. Good luck, and happy traffic generation!